The Xavier Padilla Custom electric bass guitar, built by Jerome Little of Little Guitar Works, is an amazing example of ergonomic guitar design from its unusual body design to its Torzal Twisted Neck.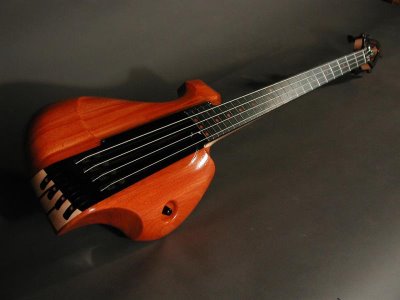 Six to eight months of discussions with Xavier Padilla resulted in very detailed design requirements. In fact, Jerome Little indicated that he "printed out just some of the correspondence to have as a reference in the shop…resulting in a 1.5″ stack of paper!" The product of their efforts is a showcase of ergonomic instrument design. The following are just some of its elements…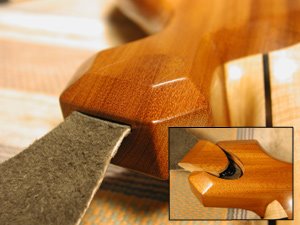 Playing the instrument in a classical position was an important consideration and so the lower bout's leg cutaway was designed with this in mind. The upper horn shape was also important to positioning the body properly so it too is shaped accordingly. Jerome Little also pointed out an interesting element of the upper horn design (seen to the left) which "houses the strap button (and strap) inside a sliding cover so that the strap can come straight out and over the shoulder and yet the strap button doesn't dig into the chest."
The body incorporates a number of design elements as well. As with other ergonomic designs, the picking arm has excellent support. In addition, the "plane of the strings is angled up at the bridge to reduce the necessity of bending the wrist." The body also incorporates a thumb rest all along the bass side of the body (seen in the image above) in what would be the position of a fifth bass string.
Jerome Little's Torzal Twist Neck is yet another example of ergonomic design. Its downward twist at the nut (approximately 15-20 degrees) reduces wrist stress since the player can fret with a straighter wrist.
For more on Jerome Little's fine work, I suggest visiting Little Guitar Works. Finally, many thanks to Jerome Little for sharing further details about his design.
UPDATE: For more on this instrument, see Padilla Solos On His Little Guitar Works Torzal Bass Guitar. Also check out recent coverage on a Padilla Style Torzal Twist Bass.