Klein Electric Guitars may not be long for this world. Yesterday, a participant of the Klein Electric Guitars Yahoo Group reported finding a note on the site stating the following: "Note: Klein Electric Guitars is no longer taking new orders at this time." This screenshot confirms this: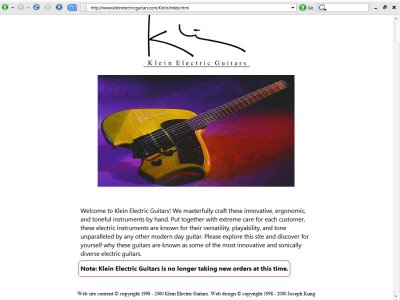 According to reports on the group, Klein Electric Guitars has had ongoing issues delivering guitars for well over a year now. Guitarists with deposits have waited and waited for their instruments – reporting little and at times no contact with the company for months at a time.
It is unfortunate as the Klein Electric Guitar is one of the few instruments that is recognized as a truly ergonomic guitar design. However, it has been an up and down ride since inception. It began with Steve Klein, its designer, producing the guitar through the Steinberger line. It was dropped and then Klein struck out on his own. Later he sold his interest in the company to his right hand man Lorenzo German. By all counts, the company did a wonderful job of continuing with the Klein guitar design intially but has apparently fallen on difficult times over the last few years. I wish the company well.
UPDATE 05.31.2007: Read the latest news and comments on – News Flash – The End of Klein Electric Guitars?
UPDATE 08.28.2007 No new word from the Klein Guitar camp. The site remains down.