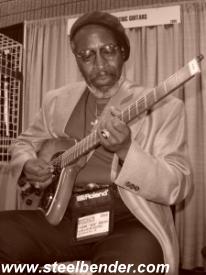 I've started this guitar blog in order to document my research into ergonomic considerations for the guitar as well as to document my attempt at building such a guitar (or guitars).
For my first project, I intend to build a Klein-like electric guitar. For those unfamiliar with this design, the Klein (seen to the left) is considered one of the most ergonomic guitar designs. Unfortunately, it is very difficult to come by. First, the builder has been experiencing problems building them. Some customers have been waiting over two years with little contact from the builder. For further details, see the Klein Electric Guitar Group at Yahoo Groups. Second, even used ones are selling for $5000 – or about $4999 more than I have available at the moment.
My interest in ergonomic designs has been fueled by my desire to learn to play the guitar. For that, I have my wonderful wife to thank. Back in my early twenties I made a failed attempt. I can blame many things for not having pursued it but ultimately I can only blame myself. Over the years I never mustered the energy to return to it. However, back in August 2005, my wife Sakinah gave me an Applause round back acoustic – a guitar which she knew I was interested in. Since then, my interest returned and my wife has been nothing but supportive. Thus, I dedicate my practice and these explorations of guitar design to my wife without whom I would not have returned to the guitar. Thank you, babe. 🙂
I became interested in ergonomic designs due to my suffering pain while trying to play with proper form. I've suffered from chronic back pain over the years and this fueled my desire to find a better way. I have largely overcome much of this discomfort through various means but the idea of a more comfortable guitar stuck with me.
This led to a great deal of research into the ergonomics of the guitar. I invested several months and came up with a great deal of information. For example, the idea that the shape of the guitar was not exactly ideal was nothing new. It was something that had been written about over the last couple of centuries specifically as it related to classical guitar. This led me to explore further until I discovered the Klein electric as well as a number of other ergonomic designs and features.
I have no intention of ripping off the Klein. I have no intention of misrepresenting it as a Klein. It is solely for my personal use. In that way it is no different than any of the countless copies and replicas that amateur guitar builders build in their own quests for the perfect guitar. I am just interested in exploring the idea of improved ergonomic designs for the guitar and the Klein happens to be considered one of the more ergonomic designs available.
After working through this project, I may find that the Klein is the ultimate shape. More than likely, I will find that it is just one of many variations that better suit the human body when compared to the Fenders and Gibsons of the world.